ICh. Alilah Jackanory (Jacko)
male
born: 13. 5. 2005
colour: black and white
HD - A/A
PRA, LL - negative
DNA PLL: clear
DNA CCL: clear

chovatel: Pat Tempest, UK
kennel Alilah
co-owner: Eva Pravdova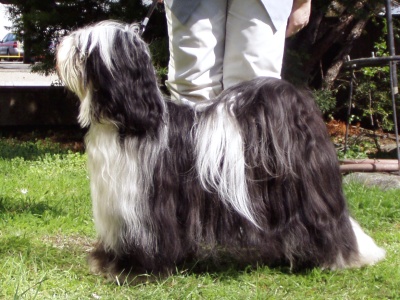 Interchampion, Champion CZ, SK, Junior Champion CZ, SK, Club Champion TTC, Club Junior Winner PL, Club Junior Winner TTC, Club Winner TTC 2007, Club Winner 2007 (SK), National Winner, BIG 3, BIG 5, BIS Junior male, 3th BIS Junior male, res. BIS male, BOB, CACIB, res. CACIB, CAC, CWC, CAJC, ...
Jacko is our youngest, he has such a sweet temperament. He came from England. He was born in a world well-known kennel owned by Mrs Pat Tempest. His co-owner is Ms Eva Pravdova. Jacko is the most cheerful, the most active and hardworking dog I know. Thank to his "favourite activity" in the garden, our granddad calls Jacko "the Gardener" J.
Jacko successfully began his show career and has very good results.
Pat, many thanks to this sweet boy!